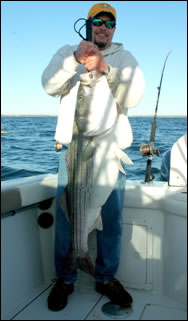 We specialize in Striped Bass fishing both trolling, and chumming. Light tackle is available. We also cast, jig and bottom fish when appropriate. The Captain and Guide has 35 years of experience in the waters local to Southern Maryland and Ocean City, Maryland.

The local waters of the Potomac River and Chesapeake Bay offer some of the east coasts best fishing opportunities. We can tailor a trip to your style of fishing or educate you on something new. All trips are personalized based on time of year, weather and the hot bite in the area. During the summer months this changes frequently. The spring and fall are our favorite times of the year because you have a chance at a fish over 35lbs and even 50lbs.

$50.00 off any trip that includes a child less that 14 years of age. We encourage parents and mentors to expose the leaders of tomorrow to the outdoors.